I- Insights
How & Why Saas tools can help your small business?
By Ava Daruwalla | October 08, 2021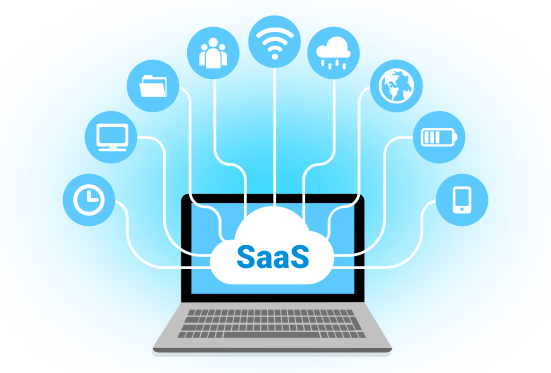 Software as a service (SaaS) (also known as on-demand software) is a software licensing and distribution model. A centrally hosted software is provided to customers through a licensed subscription over the Internet. Instead of procuring expensive hardware or installing software, you can easily access an application over the Internet. SaaS products are often called web-based software or hosted software.
These SaaS products can help increase productivity and operational efficiency, enabling the organization to focus on growth. Some of the advantages of using SaaS products are as follows:
SaaS products can be accessed on any device using a simple internet connection
Flexible user-based pricing
Continuous tab across all employees
Quick security upgrades
Highly scalable and flexible in all aspects possible
Wide range of system compatibility
No tedious hardware investments
SaaS tools are incredibly crucial in your daily business financial needs. Here is a list of 10 essential features for an ideal financing software.
Since SaaS tools reside on a remote cloud network accessed through the internet, they offer several benefits for small businesses like:
: Perhaps the biggest benefit SaaS tools offer small businesses and startups is cost savings. By opting for a SaaS application, you avoid spending money on hardware and software license costs. In the long-term, Additionally, the application provider owns and manages the environment which saves maintenance costs. Moreover, users only pay for the solution they're offering.
: SaaS tools are easy to use. Furthermore, users can test out features in advance to understand how a particular platform works.
: You can install, configure and start using a SaaS application in just a couple of hours. This way, you don't have to waste time on hardware and software procurement or custom development.
Small and medium-sized businesses (MSMEs) need to stay very focused on growing their business. They often have limited resources, time, and expertise to spend on daily ancillary functions. Thanks to the rise of software companies, numerous Software as a Service (SaaS) products are designed and catered specifically to the needs of MSMEs.
The growth of SaaS over recent years has been tremendous with a rapid pace of innovation. MSMEs, in particular, have seen the cost, security, and usability benefits and hence contributed to the rise of the SaaS sector. As per a recent survey, 38% of organizations reported running almost entirely on SaaS operations already!
These applications are changing the business landscape as they don't require tedious hardware investments. All you need is a device with a simple internet connection, and you can use them to improve your operations, communication, and security, etc.
For more information on business technology and trending industry practices, we recommend visiting this biz-finance software, Xebra. It is mainly categorized into Business, Financial, Human Resource and Social Solutions. It is an all-in-one application that merges business insights, invoicing, purchase, expense, asset, inventory, Payroll, HRMS, tax, bank and accounting, all into one application, making it easy to navigate and highly user-friendly.
Yes, you must be thinking that your book keeper can do most of these tasks but there are many things a biz-finance software can provide better than a book keeper. You can read more about it here.
Why choose Xebra over the other compelling competitors?
It improves cash flow & profitability by up to 40%
Saves 60% on software costs against buying standalone Invoicing, Payroll, HRMS, Tax & Accounting software
Automated bookkeeping – invoices, bank, tax & accounting saves 50 days/ year
How can an accounting software help your small business? Click here to know more.
In my opinion, businesses should always look for accounting software that is absolutely transparent about their pricing, with no extra hidden costs. Xebra in particular offers a variety of subscription packages that are extremely affordable and MSME friendly, you can check it out here.
Besides that, Xebra also helps identify your top profitable clients by mapping their credit history. It provides a quick check on the client-wise outstanding amount and the exact number of days since it is pending. This data is further split at an 'invoice level dues' for effortless follow-ups with clients.
You can check out more about Xebra's company history here.
Additionally, Xebra also does a real-time risk analysis of your company. As a result, it gives you a deep understanding and actionable guide on the nature of clients to take course correction by re-deploying your resources to more profitable clients. This, in turn, also helps make your business extremely profitable. Xebra also has an extremely strict privacy policy and rest assured all your documents and data is extremely secure, read more about their privacy policy.
So go book your free demo now!
This Post Has 0 Comments
---
Your email address will not be published. Required fields are marked *