I- Insights
Accountant Vs. Bookkeeper- What's the difference?
By Ava Daruwalla | August 07, 2021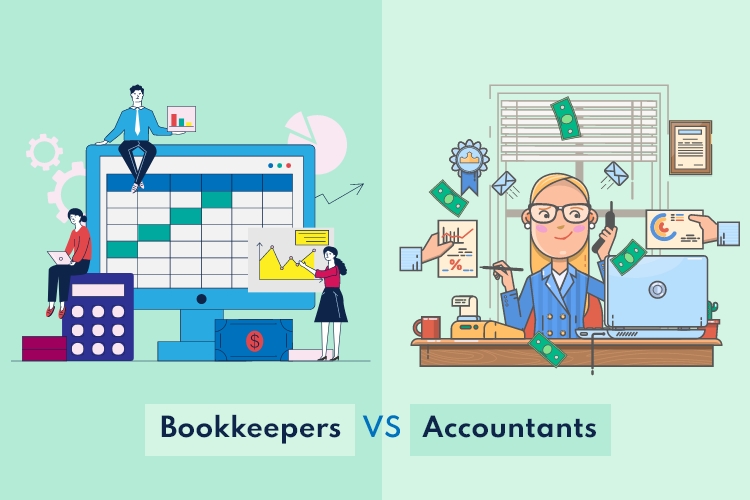 Whether you're a start-up or an established business, keeping track of your financials is essential to making informed business decisions. That's when accounting and bookkeeping services comes in.
Bookkeeping services by definition is the process of keeping records of financial transactions and preparing financial statements, such as balance sheets and income statements.
In day-to-day operations, a bookkeeper would make sure employees are filing invoices and expenses correctly and handling payroll. Keeping clear business records is important. It helps you understand how much money is owed to you, how much you owe and will prevent you from making costly – not to mention illegal – errors. It can also help you monitor your business and identify sources of income.
Below is a list of records that you should keep accurately and orderly:
Payroll and employment taxes
Sales and purchases
Expenses
Bank statements
Profit and loss statements
Cash flow analysis
Book keeping is a very crucial part of accounting which consist of multiple aspects like transaction recording, analysis of business performance and evaluating the financial risks etc. Some of the other tasks in bookkeeping that you have to perform daily are journal & ledger maintenance, bank books reconciliation, preparing the final accounts, invoices etc. But how can you be sure if you should outsource your bookkeeping services or carry it out in-house? Find our here.
Bookkeeping services implement and maintain a consistent financial process that strengthens the health of your company and helps to create and encourage uniformity in tracking, paying and reporting. The value of this is immeasurable as it insulates your business from many costly and dangerous risks.
Their team also works to reduce your overall expenses. Not only do they ensure that books are maintained properly to avoid costly mistakes, fees, and penalties, but they can also help alert you to waste and mismanagement of supplies and inventory. All while saving you time since you will no longer need to try and perform these tasks yourself. There's no question that a bookkeeping service saves your business both time and money, but the processes and consistency introduced by one can increase the longevity and efficiency of your business, making you more profitable for decades to come.
It doesn't matter where your company is located, a virtual bookkeeping staff can give you all the advantages you need to stay open and profitable for many years to come. Still debating if an online business software if the right move for your business? Click here to make an informed decision.
I personally use a unified biz- finance application called Xebra, to do all the above mentioned tasks, and much more. Xebra is mainly categorized into Business, Financial, Human Resource and Social Solutions. It is an all in one application that merges business insights, invoicing, purchase, expense, asset, inventory, payroll, HRMS, tax, bank and accounting, all into one application, which makes it really easy to navigate and extremely user friendly.
You can check out more about Xebra's company history here.
Accounting/ bookkeeping services like Xebra also provide you with a great way to keep a continuous tab on what your employees are doing, without having to pay for it round the clock. By putting your bookkeeping operations into the hands of professionals and highly skilled staff who have intricately learnt and understand the best practices on how to properly get things done, my job becomes a whole lot easier and highly effective. Such good expertise is very hard to find.
Xebra also has an extremely strict privacy policy and rest assured all your documents and data is extremely secure, read more about their privacy policy here.
Xebra provides me with all the features necessary for effective management of invoices for my daily tasks, like:
Tracking the purchases and expenses of my company
Getting the reports of clients/ vendors
Tax Summaries and Performance alerts
Raising credit notes and payment receipts
Automated data entry tools
Recurring Invoices to my regular clients (Indian/ International).
Xebra further improves cash flow & profitability by up to 40%, helps you save 60% on software costs against buying standalone Invoicing, Payroll, HRMS, Tax & Accounting software, and most importantly it provides automated bookkeeping – invoices, bank, tax & accounting saves 50 days/ year.
If you are already using an accounting software for your business but looking for really good alternatives, please click here.
Xebra has four very affordable subscription plans (Walk, Trot, Canter and Gallop plans), which include a variety of payment options too! You can check them out here. This way I only pay for how much is needed by me.
You give your business so much in order to grow and succeed. You give it your time, expertise and ideas, you market your products and services and hire qualified employees, you design benefit packages, maintain insurance, and have a dedicated space. Now it's time to take your business to the next level and ensure its future success by putting an accounting team in place. Allow them to give you the advantage of maximized efficiency of your business income and expenses while holding your employees accountable and minimizing exposure to various financial and audit risks. If you care about the future of your company, hire a virtual bookkeeping service today!
Hope this was helpful :)
This Post Has 0 Comments
---
Your email address will not be published. Required fields are marked *