M- Media
In Conversation with Nimesh Shah Xebra Business Financial Suite
By Nimesh Shah | August 07, 2021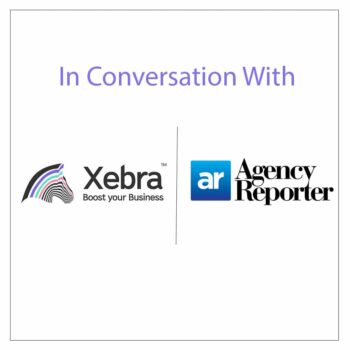 The author had given his interview at Agency Reporter and has been reproduced here.
Nimesh Shah is the founder of Xebra Business Financial Suite for Marketing Communication Agencies. It integrates Business Intelligence + Invoicing + Banking + Accounting all rolled into one. This helps the founder understand their business better which helps in revenue growth and also brings down software costs.
Agency Reporter-How exactly is Cloud Accounting helping small businesses to scale up after all its only a software balancing the books accurately?
You are right that cloud accounting per se isn't going to help much in isolation. But when you merge cloud accounting with invoicing, expense tracking, payroll etc. and then put a Business intelligence on top, then the game changes completely. We have done this with Xebra, and now with this application, the user can get an in-depth understanding of his business.
It can improve your cash flow by 25-40% by following the suggestions regarding clients, services and expenses. The system splits the clients of the user into profitable and non-profitable ones, which help the user in re-allocating its resources accordingly. He will now know which clients he should be spending more of his time to up the earnings
It calculates credit history for each client and is dynamic in nature. This helps the user judge the profitability of each client. Also, the system gives out insightful graphs on the services that are being opted more by the clients and which need to be focused more. A lot of this goes a long way into building more business and importantly increasing the profitability from the same business, without spending an extra penny
AR – What according to you is driving businesses to use financial Suites when they can easily do it using in-house resources?
There are multiple reasons why Businesses will opt for integrated applications:
-Use of multiple software for invoicing, tax calculation, accounting, expenses etc. leads to more hassle as the user has to import and export data from each. Also, the level of accuracy becomes questionable with every such data movement
-The cost of software shoots up as the user has to sign up multiple plans for each software. On average, an user can save 60% on costs if they opt for an integrated application like Xebra rather than a bunch of individual ones
-Business Financial suites save tremendous time for the team. Accountant's time, CA's time etc. as they get tax reports in a click. All financial statements like Ledgers, P&L and Balance sheet are all automatic and updated real-time
-Most importantly none of the existing software have Business Intelligence engine on top that guides founders with crucial data points that will improve cash flow and profits
AR – The proliferation of smartphones, broadband connectivity, and the upcoming GST regimen is an excellent opportunity for businesses to move their accounting and other operations online. What are your thoughts on the changes that Cloud technology might bring to this scenario, with the whole "self-service" angle coming into play?
Businesses will have to look at trimming their costs and eliminating a few expenses. They should start with all the irrelevant ones that are usually incurred by the business in a regular course of time. We didn't look at these expenses with minuteness it warranted but now we will. We also want to reduce costs on services that are primarily based on time. We want the regular, mundane mandatory work to get automated so that time can be better utilised. With Xebra, for example, entire tax and accounting modules are automated. So imagine the number of hours that you have saved for your accountant and the auditor. You can redeploy them for more value-added services or reduce your yearly retainers. Also, you have data with you real-time, so you can make effective business decisions on time and make appropriate course corrections if reqd.
Just to draw some no's, today any SME clocking business of even 3-10 cr would need 2-3 days per month only to calculate and reconcile their GST payments. Imagine this going done to 1 hour. Also, it takes 15-20 days in a year minimum to make Ledgers, trial balance, P&L, Balance Sheet, and then reconcile and recheck them. With Xebra you can bring it down to 2 days.
Most of these applications are very easy to use with onboarding guides and community support. All of this will ensure a proliferation of cloud software that is very DIY in nature
AR – Given that it is financial data that we are talking off, what are the measures taken for the security of the data
Data security is of prime importance for any client data that you save. For starters, we decided to use Google servers because of the reasonably high-end security features that come attached to it. Google ensures that its servers are away from physical damage and also from virtual cyber-attacks. There is also data backup that takes place, which ensures that data can be retrieved at any point in time. We have also ensured that at the time of signup and password change, the user carries out a dual OTP process for more robust safety. Also, the user is auto-logged off Xebra if the screen is unused for a specific duration of time. The idea is to also bring in security from a behavioural aspect of using the application
AR – As an entrepreneur, what are the significant opportunities and challenges do you foresee in the future of Business Intelligence and Could Accounting?
COVID has put a crunch on resources for all businesses irrespective of their size. We will now have to operate with a limited set of resources to deliver profits. Now to do that, the business owners need to know what would be his growth triggers, which areas should he deploy his resources, which clients should he continue to work with, which expenses should be curtailed – All of this comes under Business Intelligence. What I had realised is that SMEs don't have such integrated applications that will merge all of these requirements into one.
With work from home also increasing, founders are going to seek for solutions that can give them access from anywhere. This is where any cloud software will become very important. Also, with SaaS built in the cost goes down per user and makes it affordable for smaller players. Several businesses – B2B and B2C did feel the need in the last months. They realised that if they have to grow in the future, accepting these applications is a given. So, I see a huge upside for companies in the Business Intelligence and Cloud Accounting space.
AR – What are your recommendations for small business to empower them through this pandemic?
All businesses will have to adopt technology and data as intrinsic aspects of their business irrespective of their size or industry. Both these points are going to help them generate business, build loyalty and cut unnecessary expenses. Tech is a great equalizer and provides a level playing field to companies even if they are smaller in size
Every business founder has to take out time for business planning. For this, he will require automated tools that will crunch the past data. Basis that data, he will have to plan the triggers for growth for the upcoming year and how to allocate resources accordingly for that. This was being carried out by large-size enterprises, but given the current context, it has become the order of the day even for the smaller ones
Invest in cloud tools related to business, finance, HR, logistics depending on the industry you are in and train yourself and your team to use them effectively.
As a small business owner are you debating whether you should switch to outsourcing your bookkeeping requirement? Let us help you make this decision. Click here.
Do you struggle with understanding your taxes and terms like TDS? TAN? PAN? Let us help you get a quick refresher- Click here.
How can an accounting software help your small business? Click here to know more.
This Post Has 0 Comments
---
Your email address will not be published. Required fields are marked *