I- Insights
How Cloud Accounting Can Help Small Business
By Nimesh Shah | August 07, 2021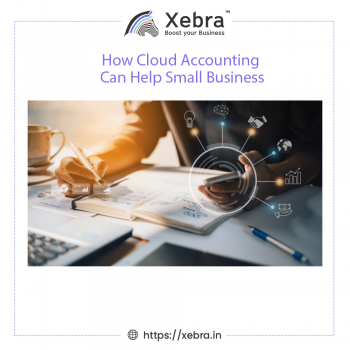 Whether you have one employee or 1,000 employees, whether you are a small business with few employees or a large company with hundreds of employees, it can help you manage all your accounting, financial data, and even your customer's address. Even the customer address can be kept in the cloud so that it can be easily accessed when needed, so that every company can benefit from the introduction of cloud accounting, regardless of the size of the company. The need was felt much more during the COVID lockdown scenario where a lot of founders were unable to check their accounts as their software was installed in their office PC in the office.
How can an accounting software help your small business? Click here to know more.
We are listing out a few of its advantages:-
1. Access your data anytime from anywhere
With cloud accounting, you can see your business account balances, outstanding invoices, overall cash position, and much more from anywhere 24/7. You can use cloud-based software on any device with an Internet connection, and online software gives you access to all your financial information and even your customer's address in one place.
The cost of ownership is lower as compared to traditional accounting software
Traditional accounting software typically stores financial information on an office computer or even a laptop. In the past, someone who stole your laptop might have been able to access your confidential financial information. Compared to storing it in the cloud, there is no trace of your financial data on your local PC or files, so even there is less manpower involved. Given the ever-growing number of workers remotely, it is very helpful today to be able to access your accounting information from anywhere. That's what cloud-based solutions enable you to do, and with an ever-growing number of people remotely, it's great – helpful to be today and be able to do what you can to make life easier for every aspect of your business by using a cloud-based solution.
2. Cloud Accounting is secure
Usually, small businesses struggle to add relevant security measures to protect their financial data. Cloud Accounting software like Xebra maintains high-security standards. Backups are taken at regular intervals; servers are scanned for vulnerabilities, and data is transferred over the encrypted connection. While many small business owners are nervous about the security of cloud accounting software, the cloud is one of the safest ways to store information. Cloud-based accounting solutions give accountants real-time access to up to – on – the minute data about your business. In addition, you will have access to your cloud accounts, with the ability to access your account software and data in real-time and without any geographical barriers.
It brings the entire team together
Online accounting means that you as an owner can stay in touch with your accounts and accountants in one place, even when they are not in the office. Lockdown taught us to work remotely; Cloud accounting enables business owners and accountants to work on the same file, simultaneously eliminating the need for data transfer and physical meetings. You can share your relevant business data with your colleagues or your clients. Won't this make your life easier and business smoother?
In the digital age, even small businesses can benefit from cloud accounting software such as Xebra-Business Financial Suite. However, finding the best accounting software program for your business can be challenging, especially if the software product has multiple software to work on. Xebra offers a solution where you can pay a small monthly fee on a recurring basis instead of spending hundreds or thousands of money beforehand with a free forever pack.
Need a quick refresher on important banking terms that may come in handy as a small business owner? Click here.
This Post Has 0 Comments
---
Your email address will not be published. Required fields are marked *